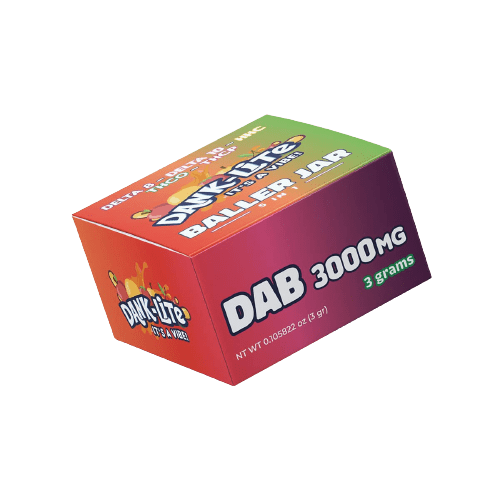 Dank Lite Baller Jar Dab 3000mg
$35.00
Tax Included. $9 flat rate shipping. Free shipping on orders $75+.
Secure Checkout With
Dank Lite Dabs
If you're a heavy smoker with a high tolerance, Dank Lite Dabs has got you covered. The concentrates incorporated into this collection consist of 5 different cannabinoids; delta-8 THC, delta-10 THC, HHC, THC-O and THC-P. Infused into 3 grams of top-grade concentrate, we can assure that this product will give you the exact experience you need. As a result of being crafted with naturally-derived terpenes, these dabs will provide mouth-watering flavor profiles and aromas with the potency to match it.
Dank Lite Dabs come in 3 different varieties of unique strains such as Rocky MT Blueberry. They are also third-party lab tested before reaching consumer hands for assurity of potency, accuracy, and safety.
Dank Lite Dab Flavors/Strains:
Golden GOAT (Hybrid)
Moonshine Haze (Sativa)
Rocky MT Blueberry (Indica)
Product Features:
3000mg of concentrate incorporated in a glass jar
Fully compliant with 2018 Farm Bill (less than .3% of delta-9 THC)
3 different flavor profiles
Infused with delta-8, delta-10, HHC, THC-O and THC-P
D8Gas is on a mission! We are committed to exposing and promoting a variety of the highest quality brands and products that are excelling in the Delta 8 space today. We strive to provide an exceptional customer shopping experience. From access to a vast variety of the best brands and products through ordering and fulfillment-customer satisfaction is 100% guaranteed.
Click Here To View Lab Reports.
Our customers are assured to be gassed up and ready to lift off upon the arrival of their new product(s)! The D8Gas team thoroughly researches, tests, and rigorously quality-controls all the brands listed on D8Gas.com to ensure they meet the highest quality and health standards. Every product listed for sale has accessible lab reports providing research and information in support of claims.
Moonshine Haze
Definitely geat buy! Great for day time use!!!! Not as potent as others I've tried but Definitely still great concentrate for me!