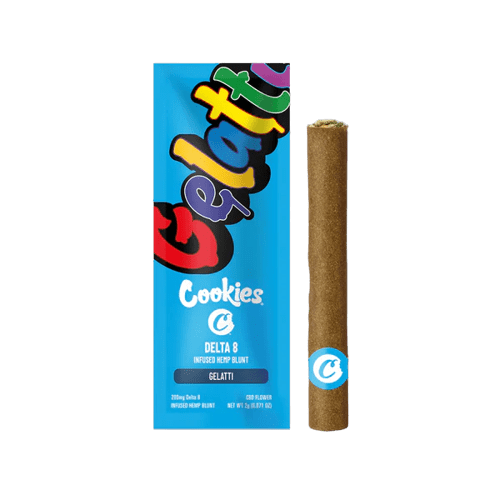 Cookies Delta 8 Blunts 2G
$33.00
Tax Included. $9 flat rate shipping. Free shipping on orders $75+.
Secure Checkout With
Cookies Delta 8 Blunts 2G
Some of the most potent pre-rolled blunts infused with hemp flower is brought to you by the famous Cookie brand. These blunts are packed with 2 grams of top-tier CBD and CBG flower blended with delta-8 THC taken from your favorite Cookie strains without incorporating leftover trim or shake. Cookies uses premium hemp wrap for these Cookies Delta 8 Blunts and are finished with a glass-tip filter allowing for a smoother, slower burning, heavy hitting blunt.
Cookies Delta-8 Blunts are available in 3 different flavor profiles. With flavors such as Gelatti that provides an extremely sweet exhale that will have your mouth watering and begging for another hit, Cookies has created a sought-after product that is very tasty, potent, and loved by every consumer.
Cookies 2 Gram Delta 8 Blunts Flavors/Strains:
Gelatti (Hybrid)
Pancakes (Hybrid)
Sweet Tea (Hybrid)
Product Features:
Fully compliant with 2018 Farm Bill (consists of less than .3% of delta-9 THC)
1 pre-rolled blunt with 200mg+ of delta-8 THC, 125 mg of CBD
2 grams of premium, exclusive Cookie CBD & CBG flower blended with delta-8 THC
0% nicotine or tobacco
Made in the USA
Third-party lab tested for assurity of potency, accuracy, and safety
Ingredients:
Organic hemp flower
Delta-8 THC
Terpenes
Click here to view Delta 8 lab reports.
This product contains Delta 8 which goes by many names, such as delta-8, Δ8 THC, D8, and Delta-8-THC. It's still a new compound among those who consume THC or weed for recreational purposes.
D8Gas is on a mission! We are committed to exposing and promoting a variety of the highest quality brands and products that are excelling in the Delta 8 space today. We strive to provide an exceptional customer shopping experience. We offer some of the best products on the market. From access to a vast variety of the best brands and products through ordering and fulfillment-customer satisfaction is 100% guaranteed.
Our customers are assured to be gassed up and ready to lift off upon the arrival of their new product(s)! The D8Gas team thoroughly researches, tests, and rigorously quality-controls all the brands listed on D8Gas.com to ensure they meet the highest quality and health standards. Every product listed for sale has accessible lab reports providing voluminous research and information in support of claims.